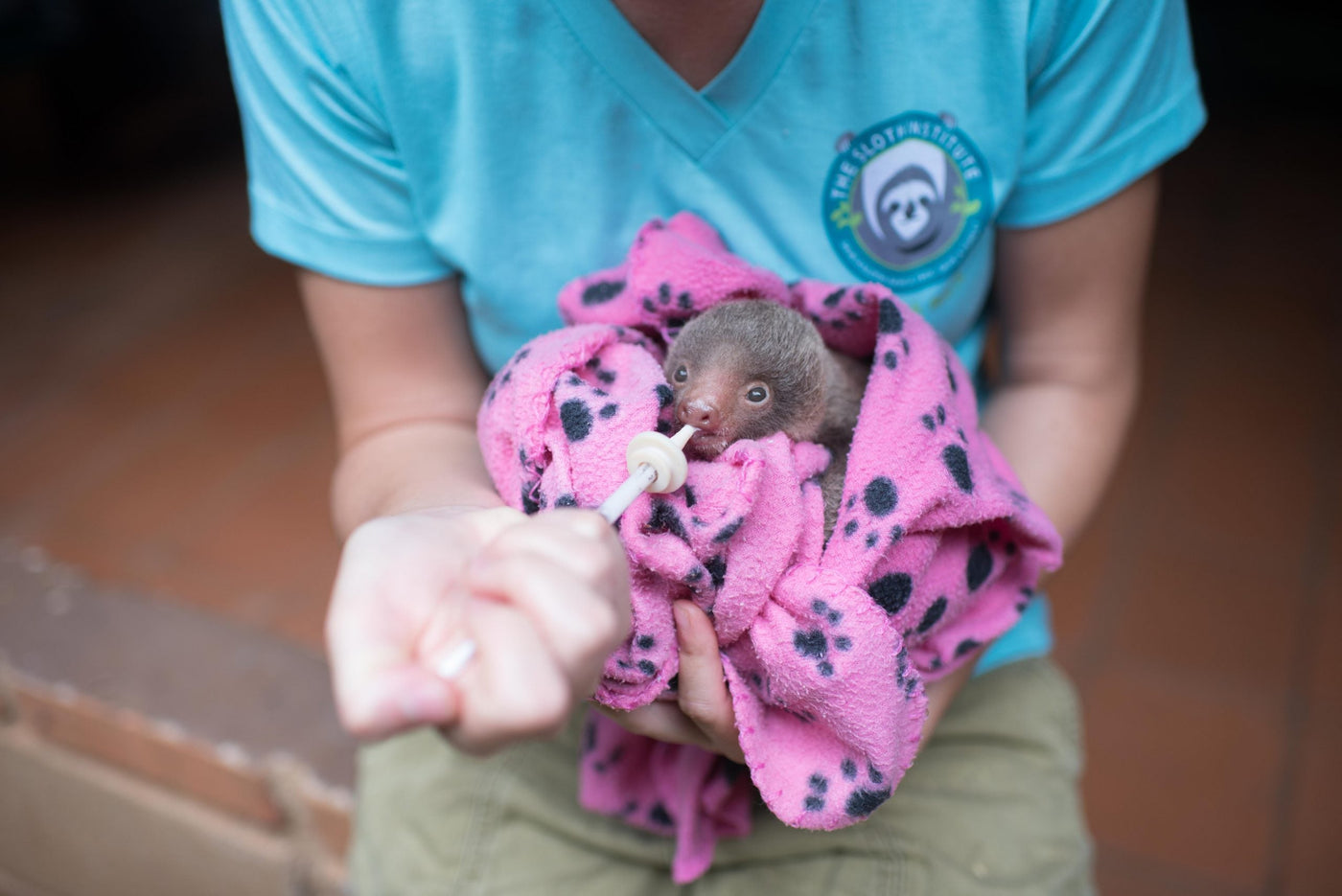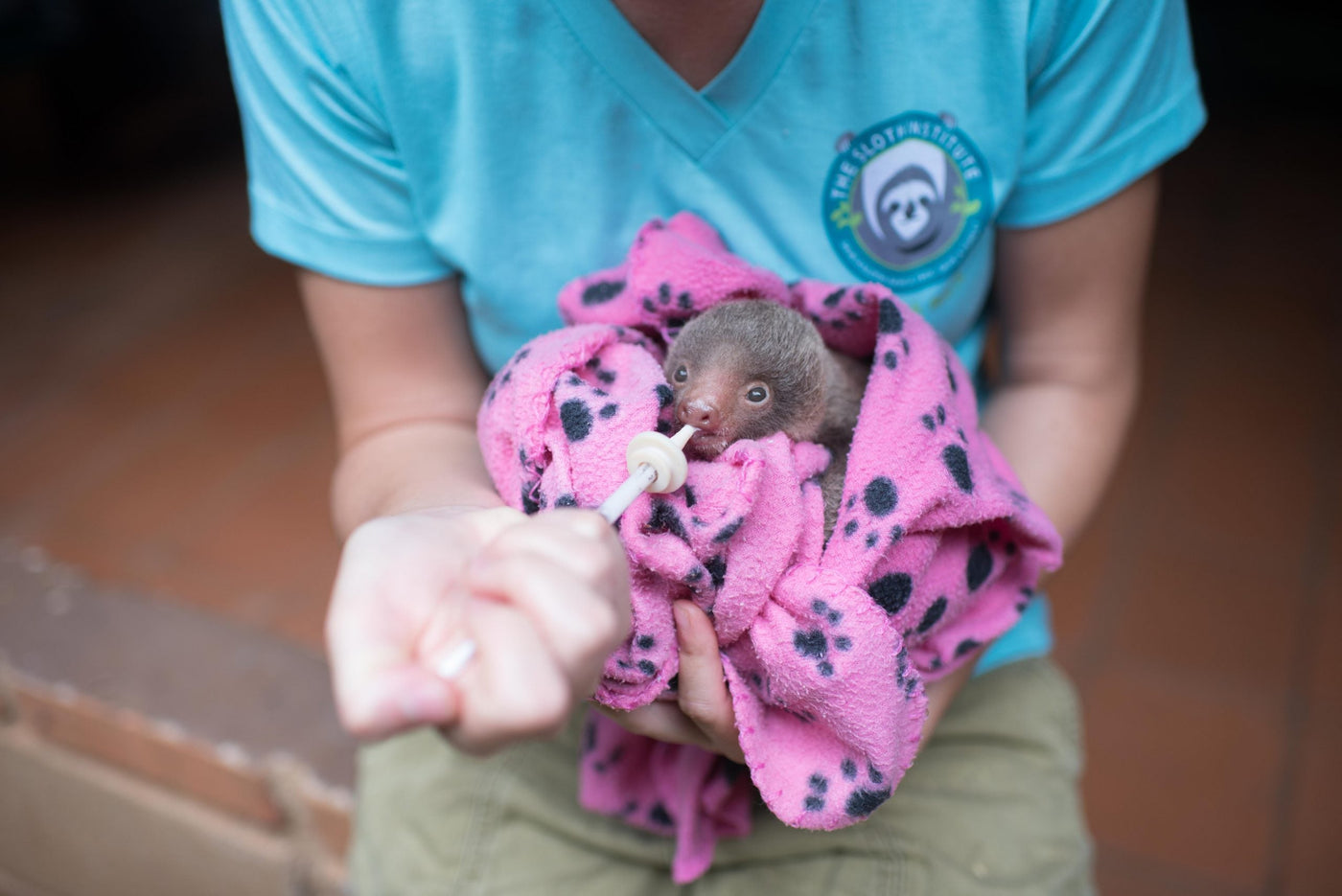 The Sloth Institute - Baby Gorgie & Baby Gordita
The Sloth Institute of Costa Rica was founded in 2014 by Sam Trull and Seda Sejud and their main goals are to rescue, rehabilitate, release and research sloths. The team consists of 8 people in Costa Rica, 11 people in total are working at the institute, but they do also accept volunteers which usually stay between 6 months or more. Each year the team at The Sloth Institute They save about 100 sloths a year and every day they spend 3-4 hours a day collecting leaves for the sloths.
A day at The Sloth Institute:
06:00 The day at TSI begins with feeding babies (currently some babies are fed every 3 hours). 
09:00 The animals in rehab are cleaned and checked on. The diurnal sloths are given leaves.  Also at 9am a morning check of all the sloths being tracked in the wild occurs. 
12:00 Sloth laundry and other food prep is done.  Also 2 people go out to collect leaves from the wild for the sloths (this takes between 3-4 hours). 
15:00-18:00 the sloths in rehab are fed and treatments for injured sloths are done. 
18:00 Another check of all the sloths in the wild occurs. Also at 6pm the night sloth trackers begin their work. 
18:00-06:00 Because sloths are mostly nocturnal, they spend 9 hours at night tracking and observing the sloths in our program. Baby feeding occurs until Midnight. 
Special activities in a day include installing "Sloth Speedways" and trainings or meeting with member of the community or government.
Baby Gorgie & Baby Gordita
Rescued as newborns, Gordita and Grogu are the sloths we will be following and helping during 2021 and 2022. Three-fingered sloths grow faster than the two-fingered and newborns usually stay at the institute about a year, while the two-fingered newborns stay around two years before being released into the wild. We will be following their journey at the institute, and later hopefully in the wild.
Baby Gorgie
Grogie is a three-fingered sloth that was rescued at only a couple days old, she was found dehydrated and underweight. Even as a tiny baby, Grogu's training begins from day one: from being fed the exact leaves that she will find in the wild to practicing her climbing skills.
Baby Gordita
Gordita is a two-fingered sloth that was found alone on the ground. When found she was about two months old and had major injury to her left arm due to a severely infected tick bite. She loves to eat and was even given her name thanks to her huge appetite.
Grogie may be released within the next year, and then she will be tracked to see her progress in the wild.  Gordiat still needs time to rehabilitate, learn and grow. She will most likely stay at The Sloth Institute until she is ready for a life in the wild.
Support baby Gorgie and Gordita by joining our fundraiser! Don't miss out to contribute to our fundraiser! Between October 28th 2021 to November 10th 2021 you can also use the code VEGANDAY to get a 20% discount on our website, the profit from the orders marked with the code will go The Sloth Institute of Costa Rica.
If you already have great hair and don't need a more haircare products you can support directly through The Perfect World Foundation: https://www.theperfectworld.com/save-the-sloth/
Or become a volunteer at The Sloth Institute of Costa Rica